Tutoring in Math and Computer Science
Learn from your peers in math and computer science.
The Department of Mathematics and Computer Science has hired a number of tutors to help students currently enrolled in Math and CS courses at Adelphi. Our tutors represent a wide range of skills and expertise, and will be available on a variety of dates and times.
Tutors for mathematics will hold office hours in Science Building 420 (Math Lab). The following courses are supported:

Math 105 Explorations in Mathematics
Math 110 Precalculus for Business and Life Sciences
Math 113 Survey of Statistics
Math 131 Calculus 1 B
Math 140 Precalculus
Math 141 Calculus I
Math 142 Calculus II

Tutors for computer science will hold office hours in Science Building 401 (Computer Science Lab). The following courses are supported:

CSC 156 Discrete Structures
CSC 171 Introduction to Computer Programming
CSC 172 Introduction To Algorithms and Data Structure

Students may also make appointments to work with alternate tutors at the Learning Center.
The last day of tutoring is Thursday, May 11. During the semester, all tutor labs are closed on the following days.

March 13-17, Spring Break
April 25, Research Day
---
Spring 2017 Math Tutor Schedule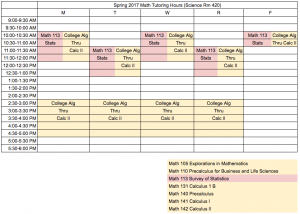 Spring 2017 CS Tutor Schedule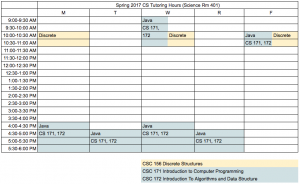 ---
For more information or if you are interested in becoming a tutor, please contact:
Branden Stone
Assistant Professor and Tutoring Coordinator
Department of Mathematics and Computer Science
Science Building, Room 411
p – 516.877.4476
e – bstone@adelphi.edu